Your child might love the ideas of owning and riding ponies just like imagine on the bedroom wall's photo, but before committing to riding lessons, teach them that horse riding is more than just a fun recreational activity but also can be a dangerous (and expensive) hobby.

Even if your child begins by riding on the smallest, slowest pony in the stable, it's worth to remember that horses are temperamental beings. You must be aware of that and sign an indemnity form. You must make peace with being falls and injuries, and prepare to invest into protective gear. 
Talk to a certified instructor
Before registering to a riding school or a lesson package, talk to a couple of instructors to ensure your child is physically and emotionally ready for lessons. While riding lessons can benefit a child in many ways, make sure that they are physically strong enough and emotionally mature enough not to lash out in anger at a horse when things don't go their way.

Teach your child to be responsibility
If your children start begging for her own pony, make sure yo teach them the tremendous responsibility of caring for such demanding animal. Let her observe the entire process at the stables, including cleaning the stables and grooming the horse, etc. So that they understand everything that riding entails, including safety and caring for a pony. Your child must know that a real horse is a different story from those on the bedroom walls.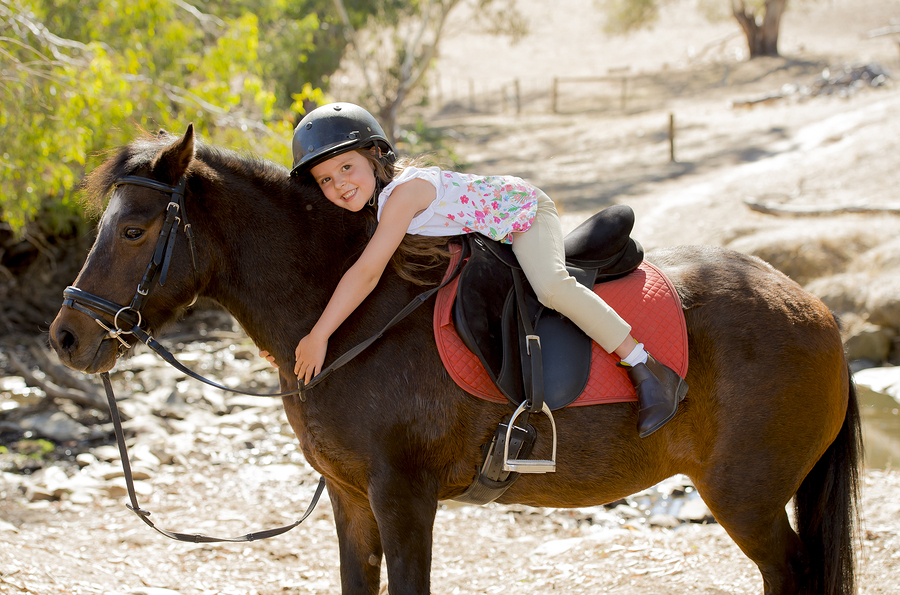 On your own visit each riding school before making your decision. Carefully observe and research the riding schools in your area, asking plenty of questions about the safety standards and possible hazards before settling.
Let the children stay around horses before riding to see how your child reacts around them first before making a decision. Teach them that horses can be gentle but they won't respond well to loud noises and sudden movements