Not that this dog has any special talent but only the friendship between it and a horse that helped both make the extraordinary things that few people can believe.
Jack Russell Dally is perhaps the only dog ​​in the world capable of horse riding and especially without the reins. But the secret behind this dog's talent turned out to be a beautiful friendship with the love horse that's called Spanky.
Spanky was a poor horse who was saved by owner Francesca Carson eight years ago. Initially, this horse was not friendly and very aggressive. Even Spanky was overweight and had to practice under a special healthy program.
During this time, Dally also was saved by Francesca and was always side by watching Spanky practice. One day, Dally's boss Francesca Carson was curious to see how friendly the two animal friends were. Then she could not imagine that everything so was impressive.
In a way, Dally was able to communicate with Spanky and control the horse walking. They were running and dancing together. This is true, Dally was riding and on Spanky's back and they were both very good together.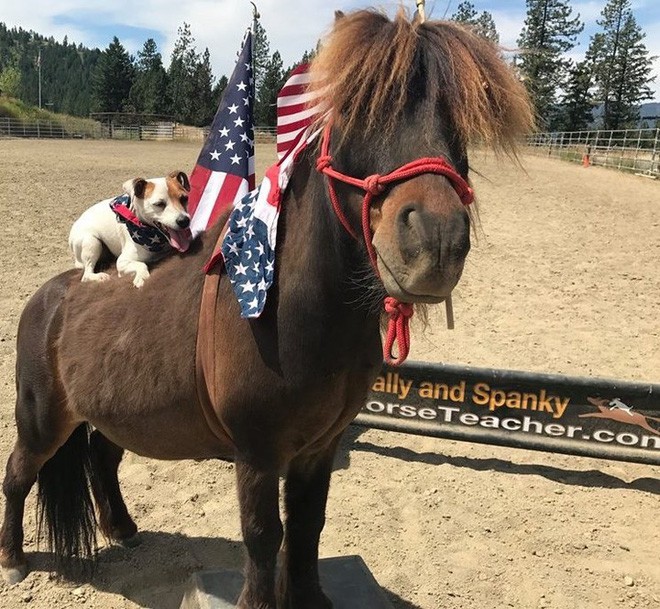 Dally was excited about climbing onto Spanky's back. Both can combine together and overcome many challenges, including hiking. Francesca said, "It is very special to see the trust between the two animals together. The horse shows favor to his dog friend and ready to jump on his back at any time."
Since then, Francesca has gone extensively in the United States to share with others how to maintain a relationship with horses. The Dally and Spanky couple are currently involved in many charity fundraising events with their owners.
The story of this intimate animals couple quickly spread on social networks. Their owners have set up a separate account for this two friends on Instagram and Facebook. Each account now has about 10,000 and 20,000 followers.